With the current state of the Oil & Gas market, asset life extension has become a key area of focus within the industry. In a recent post, we looked at the procedure for valve servicing, and explained the many considerations involved in a servicing project. In this post, we will focus more specifically on valve overhaul projects.
---
The distinction between valve servicing and valve overhauls is not always easy to define. However, we will define overhauls as projects with significant downtime and scope of work. Most of the aftermarket projects we work on now are of this nature, due to increasing demands to keep equipment in service. In some instances an overhaul can even be far-reaching enough to result in the complete shutdown of a facility.
So when might a valve overhaul be required? Here are some of the typical attributes of such a project:
The main considerations for valve servicing:
Highly bespoke valves
Very few valves are manufactured without at least some modification to meet the customer's requirements. However, some valves are so specialised that it makes it hard to get a replacement within a reasonable timeframe.
Obsolete valves
Some valves will be outdated and no longer manufactured, making it more practical and cost-effective to overhaul the existing one – even if this requires a complete shutdown.
Valves with limited future use
On the other hand, some valves may not be obsolete, but the owners cannot justify the purchase of a new one. For example they may not feel that the value of a direct replacement will be fully realised, and prefer to overhaul the existing one.
Changing process conditions
On long-term applications, the operating conditions can change significantly compared with those when the equipment was originally specified. This can leave them with insufficient time to specify and purchase new equipment, making an overhaul their only realistic option.
Given the nature of these examples, there is naturally an even greater focus on getting things right first time, than on a more conventional maintenance project. So how does an effective valve overhaul project run?
These are the typical stages of an overhaul project:
Assessment
First the valves and equipment are thoroughly tested. This may include the use of specialist diagnostics hardware, whilst still in service.
Report and recommendations
These will detail the work required to return the equipment to optimum performance levels.
Inspection and strip down
This determines the condition of each of the specific parts, and helps identify the need for any spares.
Reassembly
The valves and equipment will then be returned to working order. They may include new spares if they were specified in the previous stage.
Testing
With the equipment reassembled, thorough testing will help ensure that it is working correctly again.
Documentation
This final stage assures the customer of the quality of the refurbished products and includes guarantees where relevant.
---
Before and after photographs of a Control Valve overhaul
carried out by the Kent Introl team.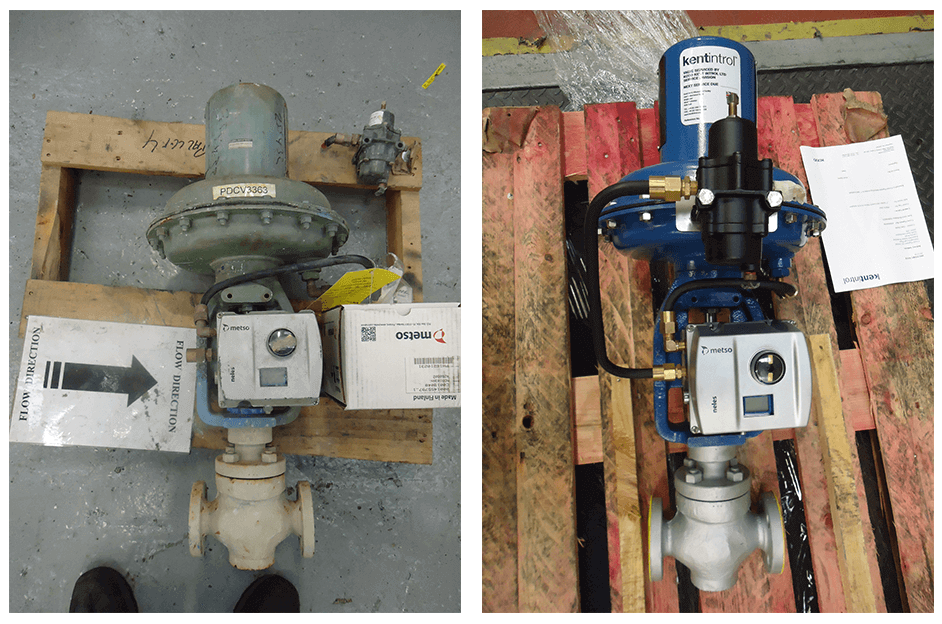 ---
Overhauls can be carried out anywhere in the world, with mobile teams typically able to access any location in the world within 24 hours. In this and many other respects, the process is very similar to that for routine, scheduled maintenance projects. However, some other attributes are more specific to comprehensive overhaul projects.
Specific attributes to more specific overhaul projects:
Timescales
In extreme cases, specialist valve outage management can begin several years ahead of a planned shutdown. By looking closely at long-term data, it is possible to begin planning a project this far in advance. Even when only a few key spares are required, these will usually be specified and ordered months in advance of the planned downtime.
Attention to detail
Compared with more conventional projects, the level of analysis is also significantly greater with a major overhaul project. Rather than simply looking at the recent performance of the equipment, historic data will be used to identify any medium to long-term trends. Any recommendations from previous maintenance interventions will also be reviewed, and may be built into the scope of work.
Complexity of work
Given that some overhaul projects might be for applications with severe service conditions, it's not surprising that the nature of the overhaul work can also be extremely complex. Examples of overhaul projects we've worked on include complete shutdowns of power stations with welded-in valves, and challenging offshore installations with poor logistical links.
---
The relentless nature of the Oil & Gas sector is what drives the need for such comprehensive, demanding work to be delivered in such tight timescales. Even when a significant overhaul project is completed and the equipment returns to service, it is not long – often only a few months – before the planning cycle begins for the next overhaul.
Only by working this way can we offer such a complete management system and give customers the peace of mind and predictability that they need to plan their projects successfully.