We're pleased to announce that Eddie Sheard, Subsea Senior Design Engineer at Kent Introl has completed the
BVAA Future Leaders Programme
.
The programme provides young company representatives with a better understanding of the valve industry along with a more rounded skill set and a bigger network. Eddie's participation in Future Leaders is testament to Kent Introl's commitment to team member development and being proactive members of the industry.
---
The Future Leaders Programme
The BVAA represents over 200 valve companies across the country and offers a number of training courses such as Safety Integrity Skills, Introduction to Valves and Advanced Level Valves. In 2016 they introduced the Future Leaders Programme to the mix.
Unlike other sectors, the valve industry isn't bolstered by educational bodies and there are no formal qualifications for professionals in the UK. This means that young people aren't fully exposed to the industry until recruitment where they begin training to the extent of the company's own expertise. In order to gain more experience or focus on a new specialism later down the line they'll have to move to a new company. This is problematic for both the young professionals and the companies that have invested in their training. Fortunately the BVAA recognised these problems and launched Future Leaders to help combat them.
The initiative invites valve industry leaders to nominate their young people to take part. They are selected for their business talent and leadership qualities. During the programme, the company representatives are provided a wider view of the industry and introduced to different fields. Plenty of interaction with other course members is also encouraged; Future Leaders is as much about connections as it is learning.
Eddie's experience
Our own Eddie Sheard completed Future Leaders in January as part of the second year of delegates. The Future Leaders Programme ran for ten months and consisted of regular meetups that focused on training, personal development and networking.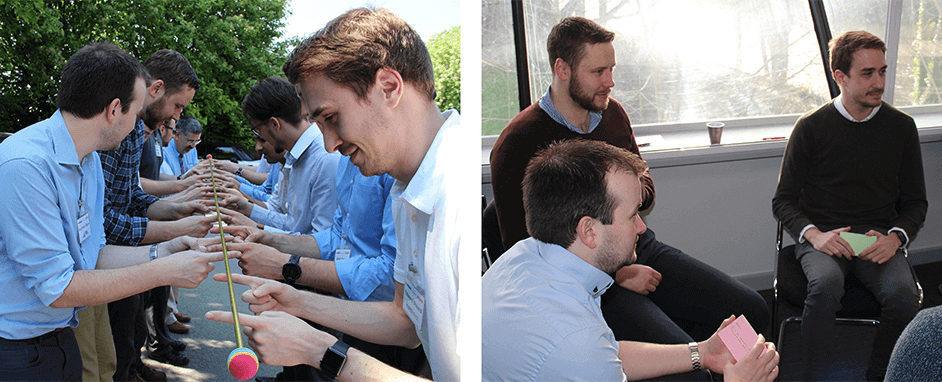 As part of the Future Leaders scheme, participants were given seven personal development days at the BVAA offices and completed a number of leadership training courses. They also attended dedicated company days each month, each of which took place at a different employer. This hosting opportunity allowed the Future Leaders to explore different companies and make valuable connections. It was a great test of organisational skills too! During our own host day, Eddie presented Kent Introl to other company representatives. He gave a tour of our facility, introduced different team members and showcased our products and services. This was followed by a networking dinner that was organised and hosted by Eddie in Leeds city centre.
"Hosting the future leaders at Kent Introl was a very rewarding challenge," Eddie said. "Presenting our company's areas of excellence was a great responsibility, but one that made the planned evening meal even more enjoyable."
Upon completion, Eddie received the highest achievement vote from his course mates. Throughout the programme, participants are mentored by previous Future Leaders, which means Eddie can also look forward to mentoring a new delegate.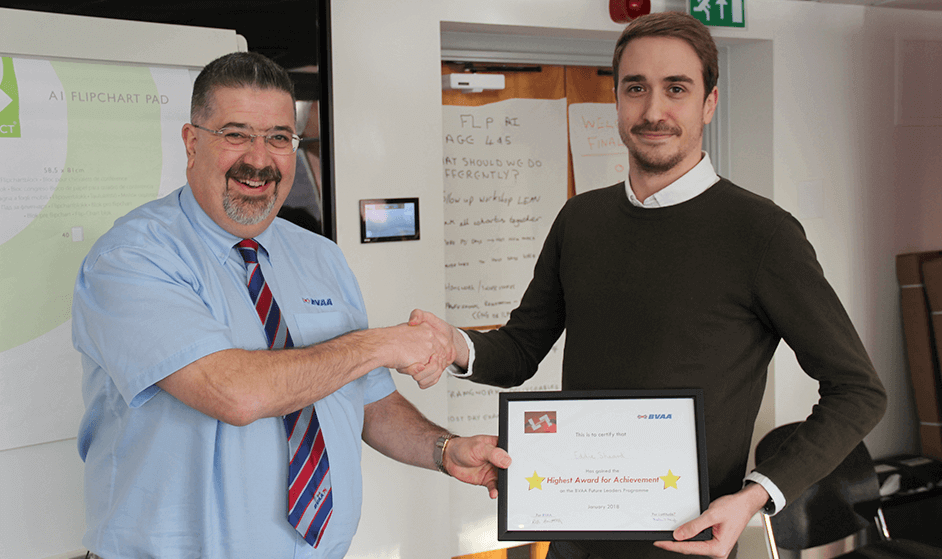 Eddie's own mentor Elizabeth Waterman, Senior Engineer at PDL Solutions, said: "Having enjoyed the huge benefits from the BVAA Future Leaders Programme myself, it was a privilege to see Eddie develop over the course of the year. From the initial introduction day which is full of nerves and in trepidation for all the delegates, Eddie settled into the programme quickly. Eddie put the personal development training into practise to juggle his BVAA commitments with his engineering responsibilities. It is fantastic Eddie's hard work has been recognised with being awarded the highest achievement vote."
A long term investment
Though in its infancy, Future Leaders has proved itself a beneficial programme for the young people that take part, their respective companies and the wider industry.
For us, it was particularly exciting to watch Eddie's progression throughout the duration of the programme and celebrate his achievements at the end. Improved personal development skills such as emotional intelligence and public speaking are vital in creating the next generation of leaders. We're pleased to have offered insight into our operations to young valve professionals, forging connections that they will maintain throughout their careers. By networking with these young people, we ensure that Kent Introl remains at the forefront of the valve industry.
During the programme Eddie also attended a number of BVAA events including the BVAA Annual General Meeting, where he took part in a presentation to industry leaders. We are very proud to have been represented by Eddie at this prestigious event.
"The future leaders programme was great in many ways," Eddie explained. "The exposure to the industry, the boost in confidence and the bond between the delegates are all invaluable, but a personal highlight was receiving the peer voted Highest Award for Achievement, which now lives on my desk as a reminder of my experience."
The BVAA say:
Future Leaders provides young people with more knowledge, more connections and more reason to remain in the valve industry for the long term. The programme also sees huge improvements in delegates' confidence, as noted by BVAA Director Rob Bartlett:
"When I first met Eddie, his knowledge and skill as an engineer were immediately apparent. He was however refreshingly honest about his serious misgivings about having to present and to speak publicly. Just a year later, there he stood at the BVAA Annual Meetings, confidently speaking like a true professional to the massed ranks of the BVAA!  It demonstrated a transformation indeed, and was a testament to the power and effectiveness of the programme."
Kent Introl's next delegate
Luke Crossland, Subsea Products Sales Engineer at Kent Introl is our next delegate for the Future Leaders Programme. Enrollment for 2018 commenced in February and the presentational skills course has already been completed. Luke was approached to take part in Future Leaders following recent professional successes. He said: "Eddie has set the benchmark for our Future Leaders participation and I am looking forward to following suit. It's already proving to be a great opportunity to develop my skill set and further my career. I'm particularly looking forward to our host day in June and showcasing what Kent Introl can do to my course mates."
---
Subscribe to our newsletter to receive the latest updates from the Kent Introl team. If you enjoyed this article be sure to click the share buttons below!